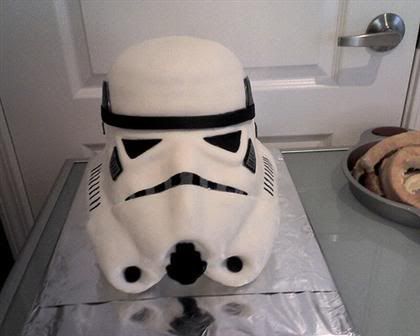 Talk about detail! This Storm Trooper Groom Cake is amazing! Guys, now this is love from your spouse to be… I mean if you are going to be forced freed to spend eternity with one person (that's for the rest of your life), shouldn't it be with someone that cares enough to know what kind of groom cake you would want? How about if she made it with her owns hands as well!
Fortunately, some lucky soul is now married to the Crazy Cake Lady. Imagine what his birthday cakes must be like!

The cake is made of layered Fondant. Inside there is a veritable fiesta of Rice Krispies and lemon flavored cake.
The level of detail on this cake is completely off the hook! Not to mention that carving into a Storm Trooper's melon must be a thrill for all Star War's aficionados. We will try to find out more information on the cake and hoepfully she is in business to make more excellent cakes. I mean if she can make this kick ass cake, imagine what else she can create!
(Visited 1 times, 1 visits today)